Capital Projects
Yale Athletics New Facilities 
Yale Athletics is incredibly grateful to President Salovey for granting approval on the following capital projects which will change the scope of Yale Athletics and impact almost all of our teams. If you are interested in being a part of any of the projects described below, please contact Alison Cole '99, Director of Development at 203-432-3444. Naming opportunities in each space are available!
Softball/Field Hockey Field House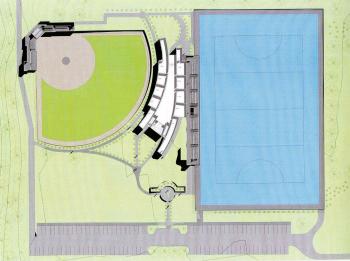 Thanks to a generous $3 million leadership pledge from Carol Roberts '81,the new Softball/ Field Hockey Field House project is underway! After extensive engineering, site evaluations, and reviewing numerous proposals, the final architect has been selected and will begin this Fall. The Field House will include locker rooms, alumnae/event space, ticket office, concession stand, viewing terrace, and public restrooms. We are still looking for additional leadership gifts to finish fundraising this historic female-only facility.
---
Yale Golf Course Learning Center and Driving Range
Construction has already begun out at the Course at Yale on a new driving range and practice area that can accommodate the needs of both of our varsity teams and golf course members. In addition, planning and architectural drawings have begun on an accompanying building that will include:
Coaches offices
Team locker rooms
Team meeting rooms
Heated hitting bays for all weather
This improved facility will make the Course at Yale an attractive space for an NCAA Championship bid and enhance recruiting for our varsity programs. 
---
The New Natatorium
Fundraising continues on the pool at Payne Whitney Gym. Over 40 alumni and friends have made pledges to this exciting project. The new facility will allow Yale to:
Host an Ivy League Championship meet due to expansion of lanes and deck size
Allow for more efficient home contests - separate diving well and connection to third floor pool allows for enhanced water space for multiple events
Recruit against our competitors in the league: as facilities are becoming more integral to student-athletes choosing an undergraduate institution, we need to ensure our facility offers world-class amenities and the chance to further develop as a swimmer or diver
Provide fast water: 9 foot depth throughout is proven to be the swiftest water depth
Serve the broader Yale community for their fitness needs with a facility that is centrally located and walkable from the entire Yale campus
Serve club teams such as water polo and intramural programming for what will soon be 14 residential colleges
Server other varsity teams for rehab, conditioning, and sports medicine purposes
Offer additional water space for recreational courses such as scuba diving and life guarding/water rescue